Sure that Nikki ran straight to Victor, Diane's surprised it took him so long to visit – perhaps you're slowing down. His arms folded, a scowl on his face, Victor's as fast as he's always been, and Diane better be just as fast leaving town.
Kyle!? Mariah wastes no time hopping up into a barstool at Society. We have so much to catch up on!
Sally and Adam sure do enjoy sneaking out of the office and into Phyllis' hotel for an afternoon rendezvous. As much as Sally enjoys her job, what she really wanted was Adam.
At CL's, Billy doesn't blame Vikki for the accident that killed Rey – but he does wonder whether Ashland was following her.
Diane wonders whether Victor's now a 'common thug' who threatens 'helpless women'. She's undergone a 'metamorphosis' (like Nikki and Adam did) and is only in town to explain herself to Kyle and ask for his forgiveness.
** If you donated to dear Winston, you should have received a thank you email with a photo of me and him – and a spoiler to your inbox. If not, please check your junk folders. Email me at thpimen@gmail.com. The surgery cost a bit more than anticipated but Winston is doing well. If you aren't able to donate, you can still help by turning your adblocker off (I'm donating the next 2 days ad revenue) or share the link. Thank you. Here's Winston wearing his cone of shame!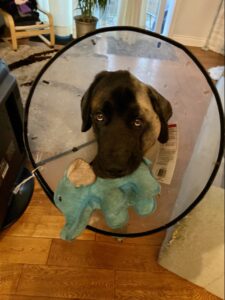 Click here to help pay the vet bill or for an update and more photos. Much thanks. Bless you all!
Kyle and Mariah have missed one another. No, Snowflake isn't here – she had to work. Kyle's not sure how long he's staying – he has some … um … issues to work out. Mariah hopes those issues are unresolved by May 13th (so he can attend the wedding)
Before heading back to the office, Sally asks how Adam's visit with Sharon went. I was the first person she was able to break down in front of, but Adam quickly suspects that's not what Sally wants to hear.
Back at CL's, Billy hopes Vikki doesn't regret confiding in him about Ashland. One more question – is he still in your life?
After a brief chat about Rey, Lola and Sharon, Mariah hopes Kyle will stick around for the wedding; which she wants him to officiate.
Victor reminds the 'delusional' Diane that she abandoned Kyle. With one more 'get out of town', he leaves with a not-so-subtle threat; I'm capable of a lot more than sneaking into your hotel suite.
Billy's relieved to hear that Ashland's leaving Newman Locke and having his marriage to Vikki annulled. Vague on her feelings for Ashland, Vikki admits she made a mistake but is ready to move on. When Lily arrives to ask how she is, Vikki tells her to ask Billy – he knows everything. What was that about? Lily's left to ask.
Merely expressing concern for the Mother of his children, Billy hit a nerve when bringing up Ashland. It's none of your business, Vikki's a smart woman and Lily wonders if Billy will one day think she's incapable of making decisions for herself.
Of course Sally wants to hear about Sharon – honesty is the basis of our relationship; a relationship she's too confident in to be jealous of Sharon, or Chelsea. Sally and Adam are falling in love (and back onto the bed)